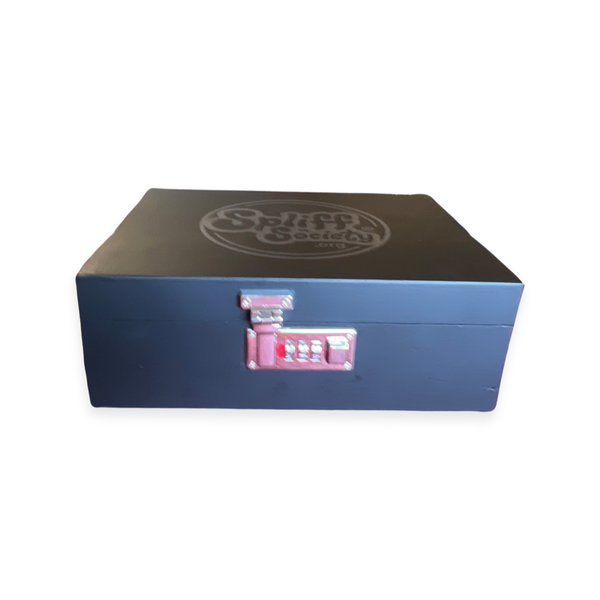 The Black Box • Premium Locking Stash Box • 63mm Grinder & 2 Smellproof jars
LOCKING STASH BOX - Use the combo lock to keep children, roommates and moochers out of YOUR stash!  

DESIGNED TO IMPRESS -  All Black with Red Velvet finish puts this box head a nd shoulder above the rest! This box includes the Spliff Society 4 part stainless steel 63mm grinder, 2 smell proof clear jars, and rolling tray and built in packing stick.  This box also boasts a poly interior to hold all of the components snuggly to reduce content movement and keeps your stash safe at all times.  The Poly interior can be removed to accommodate more space if desired.
LOCKING WOOD STASH BOX INFO:
Modern Luxury Stash Box is premium handcrafted and original design.  Easily reset the lock to your combination. Instructions are included. Only takes a few seconds to reset the code.

KEEP YOU STASH SAFE!
Each Component has its own place inside the box, form fitted to ensure the glass jars, grinder and tray all stay in place at all times, even when carrying it with you.  
This box is guaranteed to look amazing in your home!

Dimensions 10" wide, 8" deep, and 3.5" tall.
Inner dimensions are 9" wide, 7.5" deep, and 3" tall.