Dems slam WH marijuana firings; Biden worried legalization would help Trump; NY gov caves on homegrow; Banking to move in Congress before justice
Gov. Michelle Lujan Grisham (D) said she will call lawmakers into a special session this month to work on marijuana legalization after the Senate failed to act on a House-passed cannabis bill by Saturday's end of the regular session.
"Legalized adult-use cannabis is one of the best moves we can make in our work to build a bona fide 21st century economy in New Mexico. I believe legalization will be one of the largest job-creation programs in state history, driving entrepreneurial opportunities statewide for decades to come. I look forward to continuing to work with lawmakers to get the job done and done right."
Democratic members of Congress are pushing back against the Biden administration's move to fire or otherwise punish White House staffers over past marijuana use.

Iowa elected official Stacey Walker, who served on the Biden-Sanders criminal justice task force, says the president refused to let the group endorse legalizing marijuana because he thought it could lead to a Trump win—contrary to every poll showing majority support.
"I think there was a political calculation there being made [by the Biden team] that working class people didn't want to deal in these issues of cannabis legalization because, for far too long, people have made a link between cannabis legalization and black folks."
House lawmakers spoke about plans to pass a marijuana banking bill, saying they expect it to move ahead of broader legalization. They also discussed the way forward in the Senate and said a 280E fix would have to be tied to legalizing and taxing cannabis.

A top New York senator indicated that Gov. Andrew Cuomo (D) has caved in to lawmakers on allowing marijuana home cultivation and setting a steady stream of equity funding for communities impacted by the war on drugs. Meanwhile, a new poll found that state voters support legalizing marijuana, 64%-29%.

/ FEDERAL

A federal judge ruled that the Internal Revenue Service properly processed a Freedom of Information Act request seeking documents on how it applies the 280E tax penalty against marijuana businesses.

Senate Banking Committee Chairman Sherrod Brown (D-OH) reiterated that he doesn't support advancing marijuana banking legislation without also addressing sentencing reform.

Rep. Don Beyer (D-VA) tweeted, "This is not a hard call: we absolutely should not deny the U.S. government or the White House the services of highly qualified individuals — or trample their careers, dreams, and futures — just because they used marijuana."

Rep. Ro Khanna (D-CA) tweeted, "This is an absurd policy that will block law abiding people—particularly people of color—from pursuing careers in public service.  We should be decriminalizing marijuana, not punishing highly-qualified staff for smoking pot in college."

Rep. Barbara Lee (D-CA) tweeted, "Far too many lives have been devastated by discriminatory federal cannabis laws—and a disproportionate number of them have been people of color. It's time for the federal government to catch up and put an end to the War on Drugs."

Rep. Eleanor Holmes Norton (D-DC) said the Biden administration needs to "catch up" with the movement for marijuana reform.

Rep. Ed Perlmutter (D-CO) tweeted, "It's fitting that the SAFE Banking Act of 2021 is H.R. 1996. 1996 is the year California became the first state to legalize medicinal marijuana, which shows just how long the misalignment in state and federal law has been an issue."

The House marijuana banking bill got two new cosponsors for a total of 109.

The House bill to remove marijuana as a criteria that can be used to deny citizenship to immigrants got two new cosponsors for a total of two.

Pennsylvania Democratic Senate candidate John Fetterman, the state's lieutenant governor, is selling a 420-themed campaign shirt.

/ STATES

Virginia Gov. Ralph Northam (D) signed bills to allow botanical medical cannabis products and to let patients in hospice and other residential facilities access medical marijuana.

Washington State Gov. Jay Inslee (D) said he's not sure if he supports reinstating laws criminalizing drug possession after they were struck down by the state Supreme Court.

A spokesperson for Illinois Gov. J.B. Pritzker (D) said that while cigarette smokers are prioritized for coronavirus vaccine access, that's not the case for cannabis consumers. Separately, the House of Representatives passed a bill to let localities access marijuana tax revenue sooner.

New Jersey Gov. Phil Murphy (D) tweeted about the opening of a new medical cannabis dispensary, saying, "Since Day One, our Administration has been committed to making New Jersey's medical marijuana program more compassionate and modernized. By expanding access for patients during this unprecedented time, we're acting on that commitment."

Former Minnesota Gov. Jesse Ventura tweeted, "Unbelievable. No one should be fired for 'past use' of marijuana. It's a medication! 70% of America wants marijuana legalized federally. Canada legalized it. Mexico's likely to next month. So what's next? Build 2 walls to keep it out? It's LEGAL in most states & it's here to stay."

Texas's lieutenant governor tweeted, "Looks like I was right last week when I told @AmericasNewsroom that the Biden team was so clueless about the border that they must be smoking marijuana in the White House."

Florida's agriculture commissioner tweeted, "Legalizing cannabis solves lots of problems and creates none."

New York's Assembly majority leader said it is "inherently unfair" for the White House to fire people for past marijuana use and that she would have no problem hiring a current cannabis consumer to work for her.

The Georgia House of Representatives passed a bill to add ulcerative colitis as a low-THC medical cannabis qualifying condition.

The Oregon legislature's Joint Committee on Ways and Means approved making a portion of drug treatment funding that's part of the state's voter-approved decriminalization law immediately available.

The West Virginia Senate Health Committee approved a bill to allow medical cannabis edibles. Separately, regulators awarded a permit to a medical cannabis testing lab.

A lawsuit against Oklahoma's residency requirement for medical cannabis business owners was rejected by a federal judge.

California is developing regulations for simplified warning notices about the potential harms of marijuana smoke and THC.

Michigan regulators sent an advisory bulletin on the review process for marijuana businesses' annual financial statements.

Maine regulators will hold a hearing on medical cannabis rules on Monday.

—
Marijuana Moment is already tracking more than 900 cannabis, psychedelics and drug policy bills in state legislatures and Congress this year. Patreon supporters pledging at least $25/month get access to our interactive maps, charts and hearing calendar so they don't miss any developments.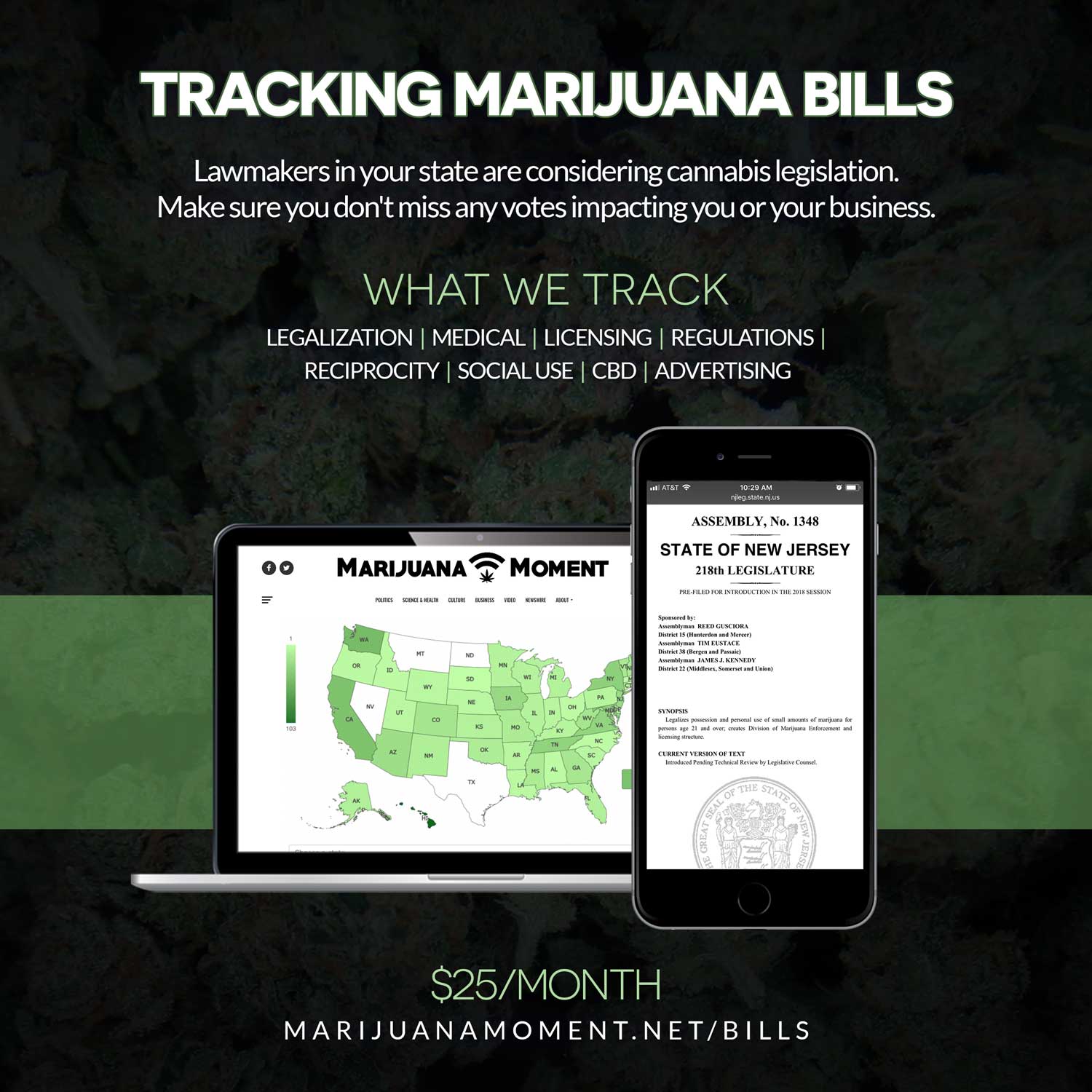 Learn more about our marijuana bill tracker and become a supporter on Patreon to get access.
—
/ LOCAL

The Erie County, New York district attorney is raising concerns about the legalization of marijuana.

Ann Arbor, Michigan police are investigating whether a new psilocybin mushroom connection service violates the city's psychedelics decriminalization policy.

Grand Junction, Colorado voters will see questions about allowing and taxing marijuana sales on their April ballots.

/ INTERNATIONAL

New Brunswick, Canada's government canceled a move to privatize marijuana sales.

/ SCIENCE & HEALTH

A study found that "legalization was not associated with a change in the rate of cannabis-related [emergency department] visits."

A review of psychedelic therapy clinical trials found "no reports of increased suicidality and preliminary evidence for acute and sustained decreases in suicidality following treatment."

/ ADVOCACY, OPINION & ANALYSIS

NAACP New York State Conference, 1199 SEIU, Immigrant Defense Project, New York Working Families Party and other groups sent a letter urging New York lawmakers to pass justice-focused marijuana legalization legislation.

The Montana Wildlife Federation and Montana Conservation Voters  blasted Gov. Greg Gianforte's (R) plan to move marijuana tax money away from conservation programs as was delineated in the voter-approved legalization measure.

The Buffalo News editorial board said that a New York marijuana legalization bill should not lower penalties for impaired driving.

/ BUSINESS

Curaleaf got approval from Illinois regulators to take over nine dispensaries in the state.

Red Light Holland Corp. subsidiary RLH Netherlands B.V .completed its acquisition of SR Wholesale B.V.

The Luna Lounge will soon be Illinois's first cannabis consumption lounge.

Bluma Wellness Inc. shareholders approved the acquisition of the company by Cresco Labs Inc.

/ CULTURE

Susan Sarandon tweeted about the contrast between the White House firing staffers over marijuana and Vice President Kamala Harris's own past cannabis use.

Stephen Colbert tweeted, "You can't work for Biden's administration if you smoked marijuana in the past. Is that why his cabinet doesn't include Obama?"

Bill Maher tweeted, "White House staffers have been suspended or asked to resign over past marijuana use. Trump was crushing Sudafeds with a bust of Churchill and snorting it off the Resolute desk, and we're worried about some weed?"